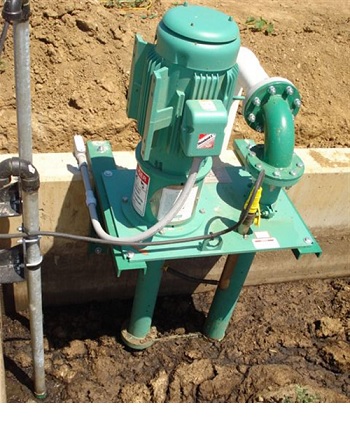 Stop by and see us at World Dairy Expo!
October 3-6. Booth "TC 567-608"
---
You Can Bet The Farm On Vaughan Chopper Pumps
Jim Vaughan invented the first chopper pump back in 1960, after working on local dairymen's pumps in his repair shop and realizing the need to "chop" the solids while pumping. Since then, Vaughan Chopper Pumps have been successfully applied on dairies where high reliability and low maintenance are demanded. Applications for Vaughan Chopper Pumps on dairies include:
Barn flush pit
Separator feed
Lagoons
Digester mixing
Scraped manure
Equalization tanks
Sludge holding tanks
And more
Vaughan has introduced a series of unique pump configurations specialized for the agricultural industry, including vertical wet well and submersible, dry well pumps. Interested in using our pumps and pumping equipment in your facility? We're here to help you with your next project.
---
The Vaughan Rotamix® System
Dairy applications are some of the toughest installations in the world. Whether it's hoof blocks, afterbirth, ear tags, silage wrap, vet wrap, gloves, or rope, there is no shortage of troublesome materials that clog standard non-clog pumps in dairy settings. That's where the Vaughan Rotamix® System comes in.
At Vaughan, we stand behind our mixing. With guaranteed performance and a full 10-year nozzle warranty, our pumping solutions keep your operations running smoothly. The Rotamix offers dependable mixing that significantly reduces sludge volume and cuts hauling costs.
Have an existing pump that is failing to meet your current mixing needs? The Vaughan Rotamix System is easily retrofittable to existing applications and perfect for replacing old and failing systems.
Unmanned Floating Platform
The FP26 Unmanned Floating Platform is designed for lagoon maintenance, dewatering, field irrigation, or sludge removal. Any Vaughan Vertical Wet Well pump can be mounted onto the platform, depending on the requirements. Foam-filled polyethylene pontoons are weather and water-resistant. Optional controls, hoses, sludge manifolds, and winching systems are available.
Turbo Agitator
The Turbo Agitator is a directional mixer for sludge pits, designed to efficiently rotate the contents by pulling settled sludge from the bottom and redirecting flow horizontally, causing a circular rotation within the pit. Available with grease pack bearings or oil bath mechanically sealed bearings.
---