Foambuster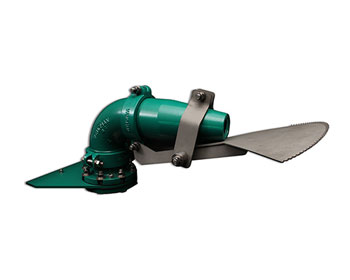 The patented Foambuster uses the same glass-lined ductile iron nozzles as Rotamix but also uses a stainless steel splashplate located below the nozzle to deflect the nozzle discharge and create a broad spray of sludge, which wets and breaks up foam forming on the surface of the digester. Digester sludge is pumped through the Foambuster either by the Rotamix Chopper Pump or by a separate Chopper Pump. When the Foambuster is used in conjunction with a tank mixing system, which produces a rotational mixing pattern in the tank, only one spray nozzle will be required for effective foam control.
The Foambuster nozzle, mounted above liquid level, may be mounted near the tank periphery and aimed radially inward towards the tank center. Alternatively, the spray nozzle/deflector may be mounted at or near the tank center and aimed radially outward at the tank outer wall. As the tank contents rotate beneath the spray nozzle, any foam present will be suppressed by the evenly dispersed spray pattern from the Foambuster. When used without a Rotamix mixing system, multiple Foambusters may be evenly distributed around the roof or on the walls of the tank to provide surface foam suppression. The size of the spray pattern will be controlled by the velocity of the fluid flow from the nozzle, and one style spray deflector will be suitable for all flow rates.
Pregrinder Fish Kit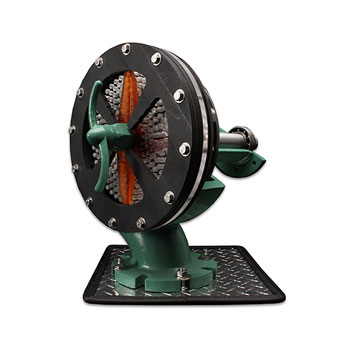 The Pregrinder Fish Kit was developed for the fishing industry to assure that discharged fish particles are no larger than ½". This Pregrinder Kit is an assembly of plates and cutters added to the pump suction of specific model pumps (4800, V4T, V6U, HE6U, HE6X, HE4T). Pump performance is affected by the pregrinder addition and requires increased horse power.
Hopper Chopper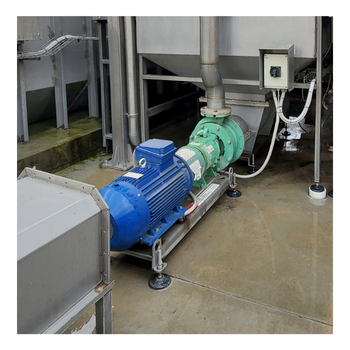 The Hopper Chopper is a combination of a stainless steel Chopper Pump connected to an SS hopper with a 7.5 HP SS auger system. The auger is designed to push whole tomatoes into the chopper pump where the tomatoes are chopped, slurried and pumped into a hot-break vessel. With varying pump models and power, the Hopper Chopper has a reliable history of pumping 10-100 tons/hr of tomatoes to hot-break vessels, eliminating the need of more expensive, higher maintenance equipment in tomato processing. Almost all tomato pastes produced in California processing plants have been through a Vaughan SS Hopper Chopper.
Vortex Chopper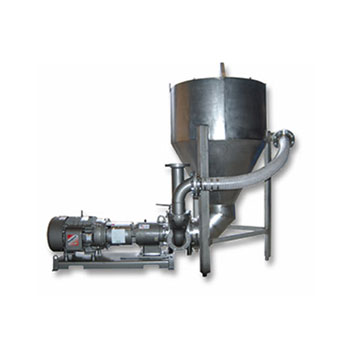 The Vortex Chopper is a combination of a cylindrical receiving vessel with a conical bottom connected through a large, 12" elbow to the suction of a Vaughan Chopper Pump. The pump discharges through Vaughan's 3-way valve back to the receiving vessel for mixing and particle size reduction. Once the material in the receiving vessel has been thoroughly mixed, an operator can change the 3-way valve position to pump the slurry out to some other destination.
The Vortex Chopper has been used for fish processing for fertilizer, chicken processing for protein recovery, food waste slurrying for bio-fuels systems, and waste processing and recycling for rejected TV dinners. The mixing system creates a vortex in the receiving vessel to draw any floating material down into the pump to assure a homogeneous slurry. The tank, pump and valve can be either steel/ductile iron or stainless steel depending on the application.
Turbo S Mixer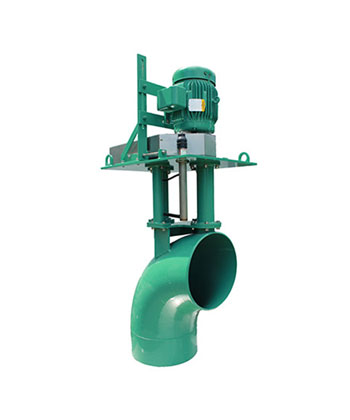 Vaughan's Turbo-S Mixer is a propeller mixer mounted vertically inside an 18" elbow. This mixer has replaced many submersible propeller mixers which have experienced motor or gearbox failure due to fluid inleakage. The Turbo-S can mix a pit with just approximately two feet of liquid above the floor, something a horizontal shaft submersible mixer cannot do.
The Turbo-S also incorporates Vaughan's upper cutter above the propeller to stop wrapping and fibrous material binding and to protect the mechanical seal. The Turbo-S has been used extensively in dairy manure mixing but also in municipal treatment plant anoxic zone mixing and in oxidation ditches. An optional add-on turntable can allow the Turbo-S to be easily re-aimed in the pit.
Floating Prop Mixer

Vaughan's Floating Prop Mixer is a floating platform with an 8.5 ft long open propeller mixer mounted on it. The propeller mixer is mounted on the platform with a swivel mounting so that it can be rotated up for transporting or rotated down into the fluid for mixing. It has been used for mixing lagoons or open topped tanks when crusts develop. Units typically use 10-20 HP motors.
Unmanned Floating Pumping Platform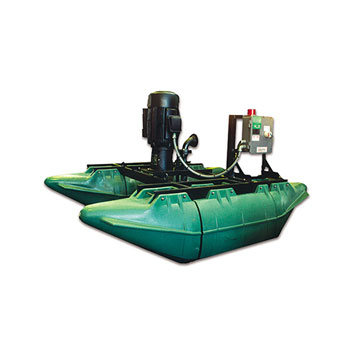 Vaughan's Unmanned Floating Pumping Platform uses a simple float designed to support only a short, 2-ft long chopper pump. A floating discharge hose can be attached to this pump to allow lagoon, tank, or pit pumpout. A variety of pumps and motors can be mounted on several sizes of floating platforms and a variety of materials of construction can be used for the pumps.
**Image shows Floating Prop Mixer combined with Unmanned Floating Pumping Platform
Vaughan 3-Way Valve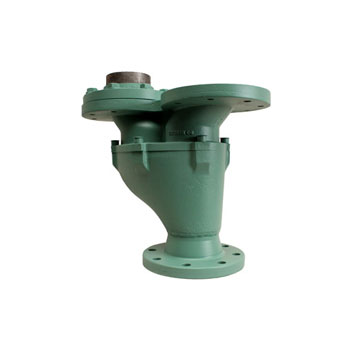 The 3-Way Valve is available in 4", 6" and 8" sizes and is available as a stand-alone valve or as part of a Vaughan submersible or vertical wet-well Chopper Pump. The valve is a non-plug design using a rotatable CD-4MCu valve disc to allow discharge out of either of the top ports.
The Flow may even be split between the two ports. The valve cover provides dual discharge flanges; the valve body provides a single inlet flange. The valve disc may be manually rotated with a handle or may be driven by an optional electric motor powered, ball-screw actuator