The Rotamix system incorporates several basic principles of physics and hydraulics, including uniform and vortical fields of flow, induced flow and surface contact. Combined together, this unique mixing system optimizes solids contact due to the homogeneous state.
Multi-Zone Mixing
The Rotamix multi-zone mixing pattern is a combination of both uniform and vortical fields of flow. In a uniform field of flow, the entire contents rotates as a solid unit with the highest velocity at the outside. In a vortical field of flow, fluid velocities are the greatest at the center, thus creating a vertical-axis vortex. The Rotamix system combines both uniform rotation (ZONE 2), and a vertical-axis vortex (ZONE 1), creating unique multi-rotational zones.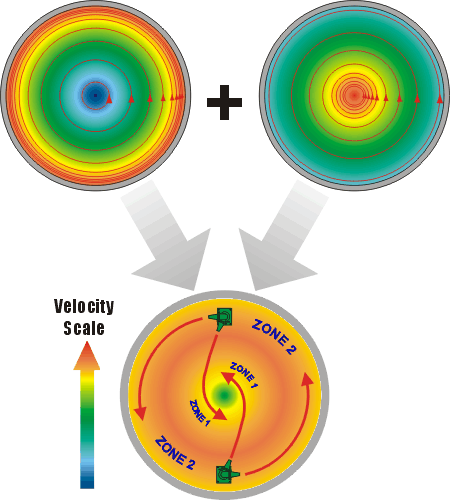 High Velocities
With multi-zone mixing, average velocities are higher and steadier. Solids are also prevented from settling in the center.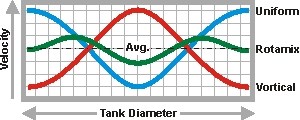 Induced Flow
High velocity nozzles also increase the effective mixing volume by inducing entrained fluid, thus significantly increasing the overall mixing effect. High velocity nozzles induce flow over a long distance, thus generating an overall effect over a large volume.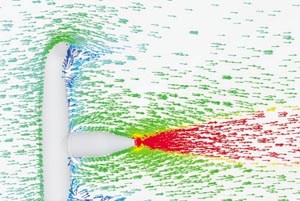 Surface Contact
The Vaughan® Chopper Pump not only eliminates nozzle clogging, but also optimizes surface contact by constantly reducing solids size, thus increasing total surface area.
Nobody else in the market can claim to have the Rotamix Systems Nozzle Assemblies and the Vaughan Chopper Pump.
The Rotamix System Nozzle Assemblies
The Rotamix system uses fixed nozzle assemblies. Once the nozzle assembly is installed, the nozzles are adjusted to the factory specified angle, and permanently tightened. No additional adjustment is required.
Nozzle assemblies are offered in single and double nozzle (patent pending) configurations, depending on tank diameter and depth. All fittings are ductile cast iron and glass-lined for abrasion resistance, reduced friction, and to eliminate struvite adhesion. The tapered nozzle barrels are 1-inch thick for long-term wear protection. The entire assembly is white metal sandblasted, and then powder coated with 3M TM Scotchkote TM Fusion Bonded Epoxy Coating, a one-part, heat-curable, thermosetting epoxy coating for superior surface protection. Each nozzle assembly includes a 10-year full warranty.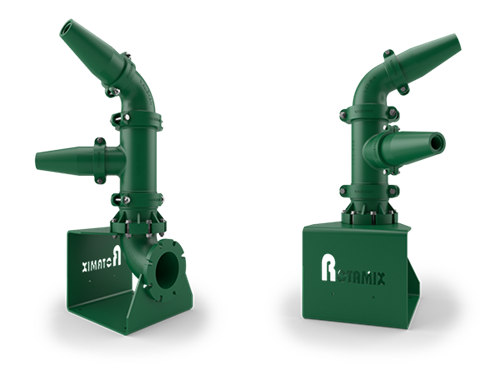 The Vaughan® Chopper Pump
Vaughan's chopper pump is the heart of the Rotamix system. Vaughan's proven technology over the past 60 years provides long-term low maintenance, and the highest reliability of any chopper pump. Continuously chopped solids not only eliminate nozzle clogging, but enhance sludge quality. Digester efficiency is increased by further reducing solids size and increasing surface contact.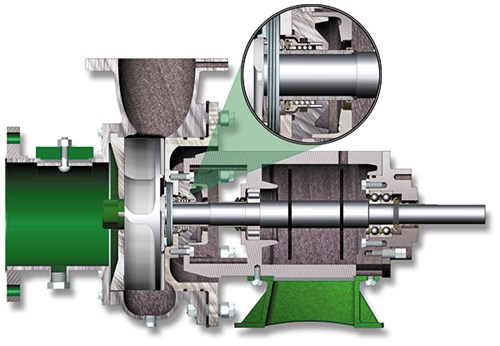 Vaughan's unique features necessary to provide this reliability include:
Patented chopping design eliminates nozzle clogging
Wear parts heat treated to 60+ Rockwell C Hardness extends pump life
Oversized shafting and bearings extends pump life
Heavy duty "flushless" mechanical seal (other seal designs available) assures leak-free operation
Back pull-out design allows adjustment of all cutting clearances without disconnecting suction or discharge piping
Other configurations available include vertical dry pit, submersible, self-priming, vertical wet well, and recirculating pumps. All Vaughan pumps include a written Performance Guarantee, your assurance of clog-free pump operation.


THE REDUCED ENERGY ADVANTAGE (REA)
You don't have to sacrifice mixing power to save on operating power costs. Using Rotamix with a Variable Frequency Drive (VFD) reduces energy costs while providing a complete mix with operational flexibility to the digester.
Vaughan Company's Reduced Energy Advantage can reduce the power consumption to mix a digester by 50% or more
YEARLY COST COMPARISON (typical 70' digester)

Without REA
$22,098
With REA
$10,349
SAVINGS
$11,749
SAVINGS %
53.2%
Reduced Energy Advantage designs are the result of Computational Fluid Dynamics Analysis as applied, installed and evaluated in the field.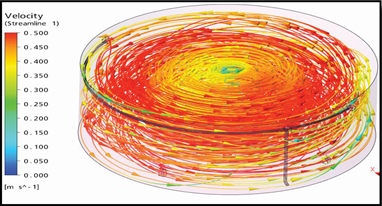 FLUID DYNAMICS SOFTWARE
Computational Fluid Dynamics
The CFD (Computational Fluid Dynamics) software Vaughan Company uses for analysis is among the top programs in the world for this type of detailed computer flow modeling work. The problem is solved using techniques similar to finite element stress analysis. Essentially, the fluid volume is broken down into hundreds of thousands of volume elements to be analyzed. Final results can be plotted in various formats including vector, velocity and streamline, on various tank configurations including cylindrical, rectangular and oval.
All Rotamix® designs are supported by CFD analysis, either by standard modeled geometries, or using customized models individualized to meet specific application parameters on a consultation basis.
Vector Plots
Vector plots use arrows to show direction of fluid flow, verifying flow patterns as well as velocities.
Vector plots also show flow patterns and velocities around objects such as support columns, verifying ability to mix while predicting potential "dead spots".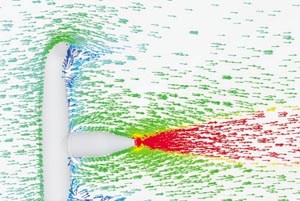 Velocity Plots
Velocity plots show variations in velocity as blended solid colors. Velocity plots have proven that small diameter nozzles producing high velocity provide more complete mixing than larger diameter low-velocity nozzle designs using equal amounts of energy. Higher velocity allows flow patterns to travel farther, while inducing significantly more entrained fluid.
In a theoretical comparison, larger-diameter low-velocity nozzles would be required if used with standard non-clog pumps, in an attempt to keep from plugging the nozzle openings with whole solids.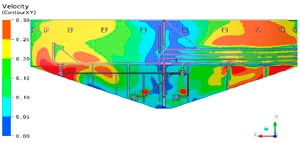 Streamline Plots
Streamline plots predict the path of flow for a particle starting at any given point. The plotted path shows the actual movement of the particle around the tank, confirming both horizontal and vertical movement within the mixing pattern.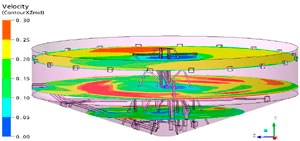 This image shows a streamline plot for a particle at steady state (a period of time determined long enough to create a steady state of mixing within the tank). This plot proves not only that the rotational mixing has both horizontal and vertical movement, but also that a vertical-axis vortex is created.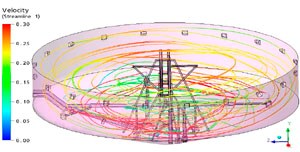 FOAMBUSTER
The patented Foambuster uses the same glass-lined ductile iron nozzles as Rotamix but also uses a stainless steel splashplate located below the nozzle to deflect the nozzle discharge and create a broad spray of sludge, which wets and breaks up foam forming on the surface of the digester. Digester sludge is pumped through the Foambuster either by the Rotamix Chopper Pump or by a separate Chopper Pump. When the Foambuster is used in conjunction with a tank mixing system, which produces a rotational mixing pattern in the tank, only one spray nozzle will be required for effective foam control.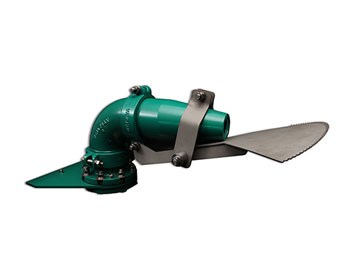 The Foambuster nozzle, mounted above liquid level, may be mounted near the tank periphery and aimed radially inward towards the tank center. Alternatively, the spray nozzle/deflector may be mounted at or near the tank center and aimed radially outward at the tank outer wall. As the tank contents rotate beneath the spray nozzle, any foam present will be suppressed by the evenly dispersed spray pattern from the Foambuster. When used without a Rotamix mixing system, multiple Foambusters may be evenly distributed around the roof or on the walls of the tank to provide surface foam suppression. The size of the spray pattern will be controlled by the velocity of the fluid flow from the nozzle, and one style spray deflector will be suitable for all flow rates.