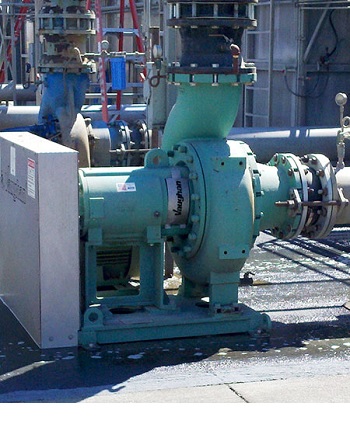 Clog-Free Pumps For Industrial Settings
Vaughan Company's longevity, customer-first focus, diverse product variations, and outstanding warranty have led companies to continually choose Vaughan pumps for a wide variety of industrial applications.
---
Food Processing
Vaughan pumps are ideally suited for waste handling in all types of food processing, including restaurants, poultry, pork, beef, fish, fruit and vegetable processing.
Blood and bones
Vegetables such as carrots, corn husks, potatoes and tomatoes

Poultry feathers, whole chickens and turkeys
Seafood processing waste
---
Paper & Wood Products
Vaughan pumps expertly handle the high solids content and the combination of abrasive and corrosive materials in contaminated wastewater, making them ideal for the pulp and paper industry.
Woodyard sumps
Log soaking vats
Chip conveyors
Yard sumps
Coal pile runoff
Conveyor gallery sumps
Fly ash and carbonized bark
Knot and bark handling

Drainage sumps
Lime sludge transfer
Underflow to dewatering
Emergency clarifier
Effluent to treatment
Clarifier scum
Paper machine sumps
Broke pits
---
Automotive / Steel
Vaughan Pumps set the standard in strength and reliability. By utilizing the toughest materials available our pumps can be used in virtually any application, no matter how abrasive or demanding.
Paint overspray sludge
Chrome based painting slurries
Body metal, glass and plastic
Mineral and oil washdown
Boiler blowdown

Coke breeze
Coke tar decanter sludge
Iron ore pellets
Mill scale
Rolling grinder cooling water
---
Chemical / Petrochemical
Suspended solids in chemical production and waste treatment create highly corrosive and abrasive pumping conditions. All wear components of Vaughan pumps are engineered with cast steel and heat treated for maximum impact and wear resistance, making them ideal for handling severe solids.
Detergent cakes
Hand cleaners with pumice
Latex skins
Lead oxide slurries
Paint sludges
Plastics

API separators
Coke slurries
Oil waste
Refinery mud
Storm drains
---
Contractor Services
Industrial and hazardous waste solids suspended in chemical solutions create the worst environment for any pump. Vaughan pumps stand the test of lagoon cleaning, sludge dewatering and storage tank cleaning due to their unique ability to chop unknown plastics, glass and metals prior to pumping – all without clogging.
Hazardous waste cleanup
Lagoon cleaning
Recycled solvents

Sludge dewatering
Storage tank cleanout
---
Rendering Operations
Even the toughest materials are no match for the Vaughan Chopper Pump. Hard and abrasive solids like hooves and hair would clog and wear down standard pumps, but the patented cutter bar and impeller veins process animal byproducts with ease.
Fleshings and pieces of hide
Offal
Horns, hooves, ears, fat, and hair
---
Institutional & Correctional
Vaughan Chopper Pumps are ideally suited for institution and correctional facility pumping stations. The combination of chopping and pumping eliminates plugging on rags, clothing, bedsheets, towels, blankets, plastics and other stringy materials. Vaughan pumps can directly replace existing pumps, eliminating the need for a pre-grinder or comminutor.
Sewage lift stations
Kitchen waste
---
Mining / Sand & Gravel
Extremely abrasive environments are detrimental to conventional sleeve bearings, packing and lip seals. Vaughan's unique seal-and-bearing design with the patented seal shroud addresses these problems. Heat treatment of wear parts extends pump life, while minimizing maintenance costs.
Acid mine water
Coal and sand washing
Concrete batch plant sumps

Sand and gravel silt ponds
Truck washdown sumps